A HEALTH EDUCATION AND LEARNING TECHNOLOGY COMPANY

Touching Lives Through Knowledge Delivery Systems®

Celebrating a Decade of Service to the Health and Human Services Community
---
Key St. Andrew Development Products ....
Wellness Suite SM Community of Health Education Touchscreen Kiosk & Web Programs
St. Andrew's Wellness Suite Community of Health Education Programs offer organizations the unprecedented opportunity to reach into communities with health prevention messaging and intervention in ways never before imagined. With web connectivity and ease of use, Wellness Suite health education touch screen kiosks offer a one-two punch; web and kiosk access.
At St. Andrew our kiosks go beyond the typical definition. They combine delivering credible and captivating health information with HIPAA compliant data collection and retrieval. We vigorously work to encrypt all personal health information yet still make it available for easy retrieval so that intervention and follow up can occur.
Wellness Suite offers users never before found comprehensive health data. To learn more about any of the topics in St. Andrew's Wellness Suite community of health education and intervention programs , click on any box below. For our enlightened MAC users or those using non-IE browser software, please go to the list below.
<![if !vml]>
<![endif]>
<![if !vml]>
<![endif]>
Product Directory: (click on any topic to learn more)
American Lung Association Attack Asthma

Sisters PRAISE - A breast health program especially for African American women

Babies Breath - a program addressing maternal smoking

Patient Safety Program for Patients and Staff

Student Athlete Wellness Center
Additional information on our products and services below.
St. Andrew's Woman's Breast Health EDUCATION Kiosk ... Your Guide To Breast Health

A fully self-service, self contained, interactive kiosk with breast-health information for women of all ethnicities. Ideal for hospital outreach initiatives, community centers and concerned, progressive employers. Learn more (ADVERTISEMENT)
St. Andrew's Tobacco Prevention Health Education Kiosk ... for Kids

An unique and practical way to connect kids and young adults with a fun, exciting and effective anti-tobacco message in an easy to use anywhere health education kiosk. Now available English and Spanish. Learn more (ADVERTISEMENT)
Products and Services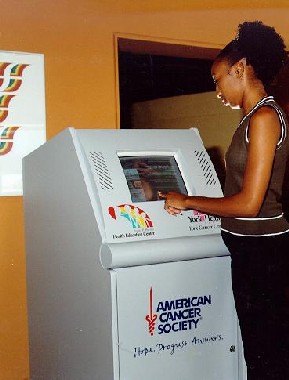 Last updated 04/13/11 04:31:26 AM