St. Andrew Development and The American Lung Association of PA have developed a full featured asthma information system Attack Asthma) for placement in pulmonologists' offices, medical clinics and other places where constituents likely to suffer from asthma might gather.
The Attack Asthma program is highly visual and features critical information pertaining to asthma detection, treatment and lifestyle. Currently under redevelopment into an even more robust interactive environment, the Attack System offers information in a way that is personal yet, at the same time, comprehensive. The standard program is available in both Spanish and English making it ideal for ESL settings.
An image of the introductory touch-screen showing the high level taxonomy is shown below.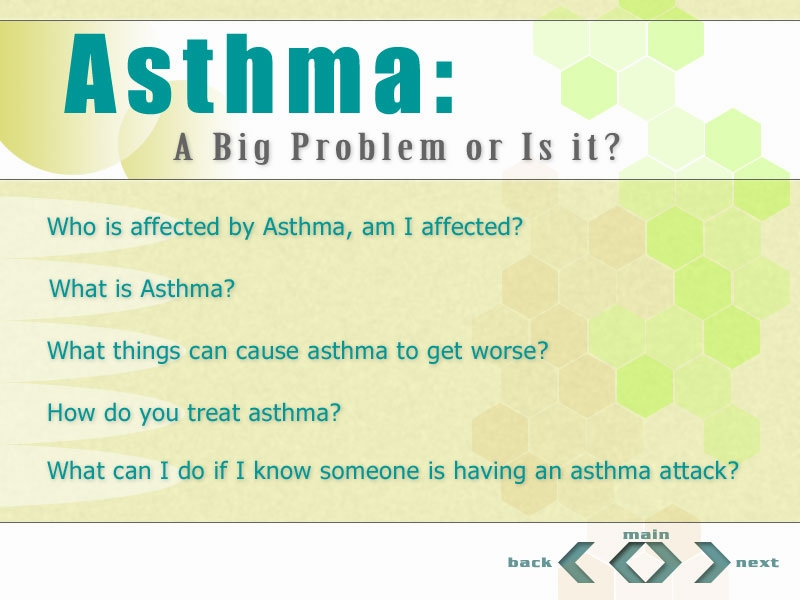 For information on how your organization can participate in this exciting and effective program, contact St. Andrew at (717) 848-5818 or send email to: Wellness@StAndrew.com
---
General Information available by contacting: webmaster@StAndrew.com
ęSt. Andrew Development, Inc. MMIV. All rights reserved.
Revision # 02.25.2004 16:19
No material may be copied from this site without the express written permission of St. Andrew Development, Inc.
it is lilely